A couple of wet weeks put us behind with the potato harvest but we have finally finished lifting for this year – and maybe for ever! Boxes are still sitting in the shed awaiting orders – hopefully they will move soon as the space will shortly be needed for cattle.
Cereals are all in the ground and starting to come up. Seeds quickly germinated due to warm ground conditions.
Grass is still growing and all cattle are out. Most calves will be weaned in November although we have put a small group of dry cows on the stubble turnips for out wintering.
I hosted a visit by the South West Belgium Blue club during the month – they were keen to see some quality Limousin cattle – I hope I didn't disappoint them.
I took two young bulls to a SW Calf Show at the Sedgemoor market – organised by Greenslade Taylor. Both did very well, with Killerton Ivyleague being placed as overall champion.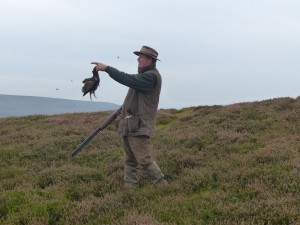 I went on a 'study tour' to the Yorkshire moors at the end of the month with a group of Somerset farmers – looking at the natural environment and ornithology. The weather was kind, birds flew well and we had a great time staying at the CB Inn.