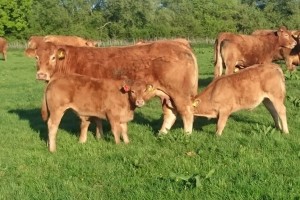 I took a team of five limousine to the Devon County Show – Emslies Horny won the Senior Bull class, Goldies Jeff was placed 2nd in the Junior Bull class (to the overall Breed champion Foxhillfarm Jasper, Junior Heifers Killerton Ivy (3rd) and Killerton Iloveit (4th) (behind Foxhillfarm) and Baby Heifer Killerton Iceni (again placed behind Foxhillfarm) – There is a consistent theme to showing in the west country this year!
Off to the Royal Cornwall Show next month and taking a couple of Charolais as a trial – and bit of fun.
Silage was completed in lovely conditions at the end of May and it is great to see the pit full again. Beef price is on the up – about time to.
My National Trust landlords at Killerton House have carried out the badger vaccination programme once again and are still finding plenty to treat. They have found that many groups have moved from the woods into hedges and other outlying areas which concerns all of us with grazing cattle. They maintain, however, that the cost is worthwhile and the project a success – but not looking at it in the same way as me.
Bull sales are not as strong as usual for May – Perhaps the fine weather has kept everyone busy at home.