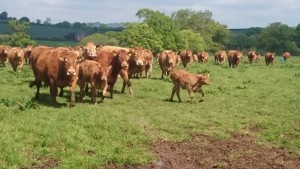 The cold spring meant grass growth was slow but following a month of beautiful weather everything now looks better in Devon. The calves are benefiting from the extra milk being provided by their mothers and heifers are going out on grass.
Winter cereals are growing well and the maize has just been drilled after the cows finished the winter stubble turnips.
Clear TB Tests mean we are now in a position to show cattle this summer – our first outing will be at Devon County Show on 21-23 May. We have had a run of bull sales so will not be taking any animals to the Holsworthy or Brecon sales in May.
My young tractor driver/assistant stockman has just given notice so I will be looking for a full-time Stockperson/Tractor Driver this summer. If anyone is looking for a job please contact me.