August started off with the dreaded TB test for the cows/followers and unfortunately we had one reactor out of the herd which has mucked up any plans of having a reduction sale in the short term.  I have had to negotiate with the National Trust (landlord) to keep an area of river meadows in the tenancy that was going to be taken back in hand.  I am not too sure they understand the full implications that we need at least two clear tests to be able to sell in the live market in the future.  Next year we hope to reduce numbers of breeding stock due to our stewardship coming to an end and a major rethink on farm policy.  We are lucky that we have two holdings and the breeding bulls are on the second/clear holding so they can be sold.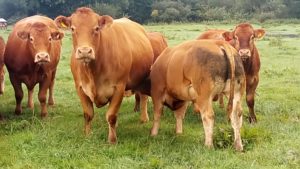 Most stock bulls have been working well to date but sadly we lost Ampertaine Lawson through injury.  He was such an easy calving and fleshing bull but luckily I have some of his semen in store for on farm use.  I also have some  Foxhillfarm Montreal and Elmslies Horny semen for sale.
The beef price has got a bit stronger which is a positive note but as cereal prices continue to rise they need to keep up with what is happening in the real world.
Harvest finished on August 9th  so I was lucky to have completed before the weather broke down.
It is a shame all the shows have been cancelled during 2020 due to Covid-19 and I have missed the company, drinking, laughing and joking.  I am just beginning to go a bit stir crazy but have the shoot season to look forward to.