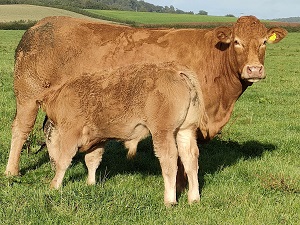 Good news and bad news ..
Starting with the Good – Harvest is finished at long last, slightly disappointing.  Most importantly passed TB test and we are now officially CLEAR.
Bad News – my landlords, the National Trust, have taken back a large area of grazing land and our Stewardship Scheme has finished on Arable Reversion so we are overstocked for the future and are now considering a Reduction Sale in November.  Further details next month.
In the meantime, we do have some fantastic Limousin cows and calves and Limousin Heifers (in calf and bulling) for sale privately – please get in touch with me.
Back in August I went to Honiton Show and was Limousin Breed Champion with Garnedd Neptune which was pleasing – he looked a picture on the day.
We had the SW Limousin Club Herd competition in September, judged by Dyfan James (Cowin Herd).  He placed Killerton Selena in Second Place for Heifer calf born in 2021 (Dam Killerton Jeanlanvin, Sire Garnedd Neptune) and Killerton Somerset in Second Place for Bull born in 2021 (Dam Killerton Latitia, Sire Meadowrig Otis.
Stubble turnips are growing well for the dry cows this winter.
On the arable side,  the rape went in late but looks like it will  be a goer .  Rain at the end of the month has put paid to any drilling and maize harvesting which is just ready – for the foreseeable future.