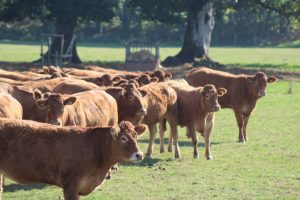 I finished drilling all cereals end of the first week of October, thinking that the weather would change and not know when to stop chucking it down.  I could have been more patient at it turned out … Crops are looking well, Stubble turnips have come on in leaps and bounds and the grass is still growing.
We started early October with a NBA farm walk which was well attended and my thanks go out to the sponsors Crediton Milling for the refreshments, Vale Vets and  Boehringer Ingelheim for their presentations.
https://www.nationalbeefassociation.com/news/4996/nba-showcase-award-winning-killerton-herd-at-farm-walk-3/
It was a beautiful sunny day and the cattle behaved themselves as we drove around with three tractor/trailers.
http://limousin.co.uk/2018/10/fantastic-farm-walk-at-killerton-limousins/
As we came to the end of the month dry cows and in calf heifers were put out on the stubble turnips.
At the very end of the month we passed our Tb test which is really great news.
On 10 November I am off to Brecon (McCartneys) sale with 3 bulls and hope the autumn trade will be good.
Shooting started end of October – clocks have changed and winter has begun…..