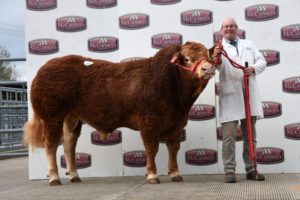 We had a very busy November with Brecon Bull Sale and our own small Reduction Sale at Exeter Market due to losing the 150 acres of FBT Grazing land on a flood plain which is going to be re-wilded by the National Trust.  The sales went very well but we will still have Pedigree Limousin cows and calves, heifers and  Limousin bulls for sale this year if anyone is looking for anything privately as we are still a little overstocked.
We are still calving a few cows and heifers which are a little out of sync due to a  stock bull  not working last year.  A lot of cows with heifer calves are outside on stubble turnips and seem to be a lot healthier than livestock in buildings due to high temperatures/weather conditions.
The winter cereal crops are coming through the winter very well but I wonder if there will be a sting in the tail later… It has been relatively mild this winter but very wet.  This seems to be an annual running theme.
One month to go to the end of the shooting season.  It looks like Boris and Covid will allow us to have a little fun this winter.
I wish everyone a healthy and prosperous New Year.
—
From Kivells Exeter Market Report [19th November 2022]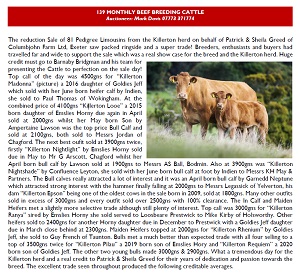 The reduction Sale of 81 Pedigree Limousins from the Killerton herd on behalf of Patrick & Sheila Greed of Columbjohn Farm Ltd, Exeter saw packed ringside and a super trade! Breeders, enthusiasts and buyers had travelled far and wide to support the sale which was a real show case for the breed and the Killerton herd. Huge credit must go to Barnaby Bridgman and his team for presenting the Cattle to perfection on the sale day! Top call of the day was 4500gns for "Killerton Madonna" (picture) a 2016 daughter of Goldies Jeff which sold with her June born heifer calf by Indien, she sold to Paul Thomas of Wokingham. At the combined price of 4100gns "Killerton Looe" a 2015 born daughter of Emslies Horny due again in April sold at 2000gns whilst her May born Son by Ampertaine Lawson was the top price Bull Calf and sold at 2100gns, both sold to Messrs Jordan of Chagford. The next best oufit sold at 3900gns twice, firstly "Killerton Nightlight" by Emslies Horny sold due in May to Mr G Arscott, Chagford whilst her April born bull calf by Lawson sold at 1900gns to Messrs AS Ball, Bodmin. Also at 3900gns was "Killerton Nightshade" by Confluence Leyton, she sold with her June born bull calf at foot by Indien to Messrs KH May & Partners. The Bull calves really attracted a lot of interest and it was an April born bull calf by Garnedd Neptune which attracted strong interest with the hammer finally falling at 2000gns to Messrs Legassick of Yelverton, his dam "Killerton Epson" being one of the oldest cows in the sale born in 2009, sold at 1800gns. Many other outfits sold in excess of 3000gns and every outfit sold over 2500gns with 100% clearance. The In Calf and Maiden Heifers met a slightly more selective trade although still plenty of interest. Top call was 3000gns for "Killerton Ranya" sired by Emslies Horny she sold served to Loosbeare Prestwick to Mike Kirby of Holsworthy. Other heifers sold to 2400gns for another Horny daughter due in December to Prestwick with a Goldies Jeff daughter due in March close behind at 2300gns. Maiden Heifers topped at 2000gns for "Killerton Rhenium" by Goldies Jeff, she sold to Guy French of Taunton. Bulls met a much better than expected trade with all four selling to a top of 3500gns twice for "Killerton Pilau" a 2019 born son of Emslies Hory and "Killerton Requiem" a 2020 born son of Goldies Jeff. The other two young bulls made 3000gns & 2900gns. What a tremendous day for the Killerton herd and a real credit to Patrick & Sheila Greed for their years of dedication and passion towards the breed. The excellent trade seen throughout produced the following creditable averages.
24 Cows with Calves at foot £3369
24 Served & Maiden Heifers £1836
4 Bulls £3386