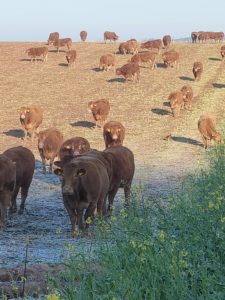 Good news this month – we passed our six monthly TB test which gave us an opportunity to vaccinate all the cows and young stock up to date. We are being a lot harder on the bulls we keep for breeding purposes but to establish a good premium over present killing prices is still proving difficult as potential purchasers are often unwilling to pay a sensible price for pedigree bulls.
One does question all the effort on occasions. When a young 12 month pedigree limousin bull can realise a value of £1800+ at a live market/on the peg then it definitely brings into question the viability of taking it to a breeding age. Like wise with the heifers – when the abattoir will pay similar money for 16-20month old heifer, it makes no economic sense to sell as bulling heifers in a market, especially in the south west.
At long last the grass is beginning to grow. I am glad I forward purchased fertilizer so at least we will have one good cut of silage to fill everything up and we have plenty of dung for the maize.
On the arable front – Spring barley after stubble turnips has now germinated and got away in front of the rooks.
In April and May we have sales where we are taking males and females :
Frome Market 13 April Pedigree bulls
Exeter Market 22 April Pedigree bulls
Worcester market 30 April Pedigree cows and calves plus Pedigree Bulls
Brecon 14 May Pedigree bulls