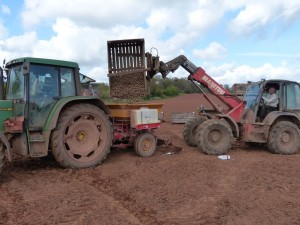 The metrological experts have done a fair job this month – predicting sunshine and showers with some accuracy… At least I managed to finish planting potatoes. This year we have planted Maris Piper, Estima and Lady Rosetta- some of which are sold on contract. Sadly it is too wet to do any pre-emergence spraying but hopefully we will catch up in the next few weeks. The seed went a bit further than expected – I'm not sure if that was due to operator/machine error – but fortunately we had space in one field to fully utilise all seed.
We have had a good run selling limousin bulls both at markets (Sedgemoor and Holsworthy) and off farm. Two of the bulls taken to Holsworthy market (by Chinauley Fibber and Barrons Fjat) were placed Champion and Reserve Champion. A full sale report can be found on the link below to the Limousin website
http://limousin.co.uk/2014/04/4100gns-killerton-bull-tops-holsworthy-limousin-sale/
We currently have a number of excellent 20 month old Heifers for Sale. Please contact us for further details.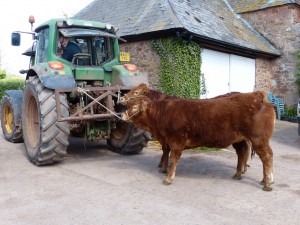 Halter training is now underway for the summer shows. Usual fun and games for Andrew and Matthew trying to persuade young bulls/heifers that they really do want to go for a walk. Our first outing will be at the Devon County Show (22-24 May) and no doubt the date will come around too fast.
Winter cereals are looking good at the moment – Winter Barley well out in ear which is earlier than usual, Winter Wheat looking well and still standing … When the weather dries up we will put maize in and most important of all, the game crops.